Blue and Gold Luxe Victorian Inspired shoot
"A dark, luxurious and moody Victorian inspired blue and gold wedding shoot, we took our inspiration from the Victorian Townhouse that we shot in: The Dead Dolls House in Islington, London. Styled by Harriet from Fairly Vintage, our colour palette was sumptuous berry reds, velveteen blue and gold leaf. Touches of vintage lace, cascading flowers and candle light added a whimsical air.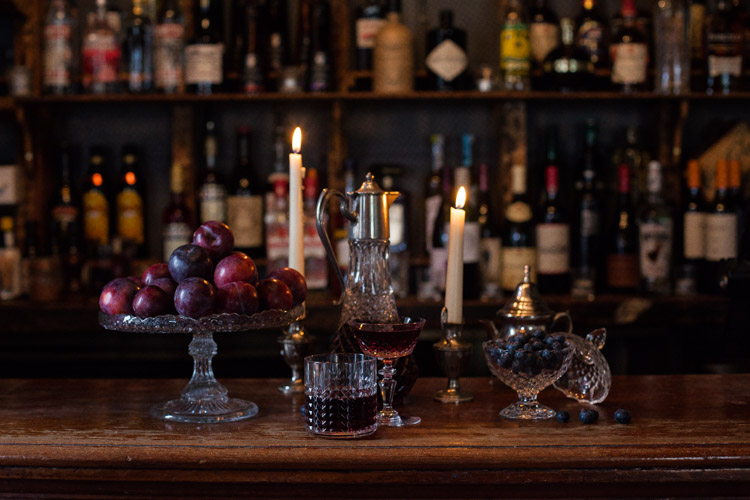 We knew we wanted to create something vintage inspired, that touched on Victoriana and used a popular colour palette of metallics and blues. Then we visited the Dead Dolls House to confirm our shoot location – a wedding venue in a townhouse-come-bar opposite Islington Town Hall, and perfect for weddings. It was perfectly suited not just with the velvet blue sofas and gold table tops, but the lighting, those tarnished mirrors and creaking wooden bar just inspired us to create something much darker, moodier, that reflected the dark side of the dead dolls house, but still befitting to weddings (especially winter weddings).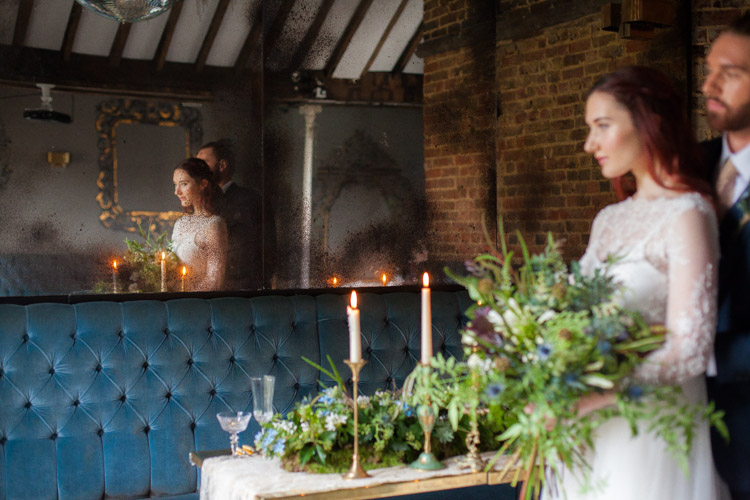 Justifiably keen on detail-rich styling, Harriet brought in crystal cut plates of dark fruits – plus, blackberries and blueberries which set off the blues and the darker edge to this inspiration shoot, and alongside candle light and berry cocktails we had a sumptuous cocktail bar. That beautiful gold leaf cake was made and decorated by Yolk, topped with foliage and berries it set off the fruit and cake dessert bar so luxuriously.
Florals were greens, blues and whites and beautifully free flowing and wild. The wonderful Sarah of The Flower Bird set off the table with a long runner of foliage and florals almost effortlessly, complementing the green and gold candlesticks and the tea stained vintage lace cloth. Our Victoriana blue stationery is the 'love amongst the flowers summer sky' set from Lucy Says I Do. 
Bernadette's gorgeous dresses are all designed and made by Suzanne Harrington of Vintage Trousseau, whose collection of stunning lace gowns is just to die for, and fitted the venue and the theme perfectly.
Set off by the accessories from Sophie and Luna dried flower crowns and Vintage Button Bridal's headpieces on Bernadette's gorgeous auburn locks they're a winning combo!   
We just loved the chandelier and who doesn't love a glitter ball? So it was calling out for some dancing – and with our bride Bernadette being a professional dancer, it would have been rude not to!"
*Flower Crown | Sophie and Luna WWW wedding directory member*
Florals | The Flower Bird
Hair & MUA | Sophie Murray
Cakes | Yolk
Venue | Dead Dolls House
Stationery | Lucy Says I Do
Bride Model | Bernadette Lemon
Headpiece | Vintage Button Bridal Designs
Groom Model | Frankie