The end of an era
🥀
Like ourselves, businesses evolve, grow and develop into something different overtime. I'm noooooot kidding: having a business is like having a child! – although I don't have a child it a dog, Cooper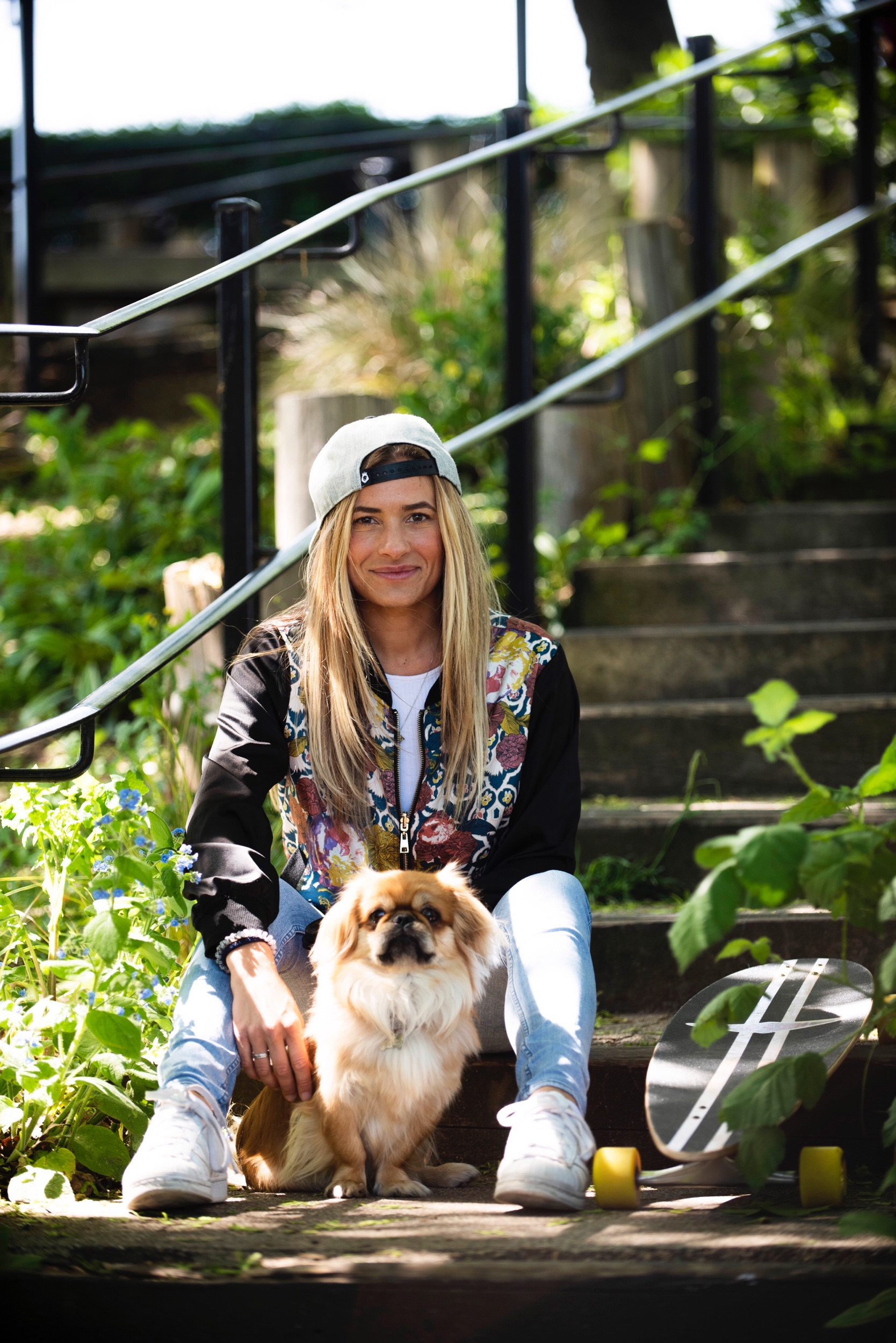 Me being me and Coops being dog
Sophie and Luna has her own life. She's been changing depending on external influence like clients demand, when customers ask me to make Classic crowns or combs and I find them slow to make. I can't be very creative with them and I enjoy making larger pieces anyway.
In the beginning I made Classic crowns, bouquets and buttonholes, even fresh flower decorations. I loved everything because it was all new. Then I stopped doing fresh flowers because I wanted to be known by doing something really well, so I focused on the headpieces. I wanted to sell as much as I could as I wanted to make a living from it so Sophie and Luna started to be what people wanted to wear. Wrong move Sandra!
Exactly at this time two years ago I went from dedicating all my time to Sophie and Luna to giving it only evenings and weekends. I went back to Marketing in the city. I was bored of working on my own and I felt a bit lonely and uninspired.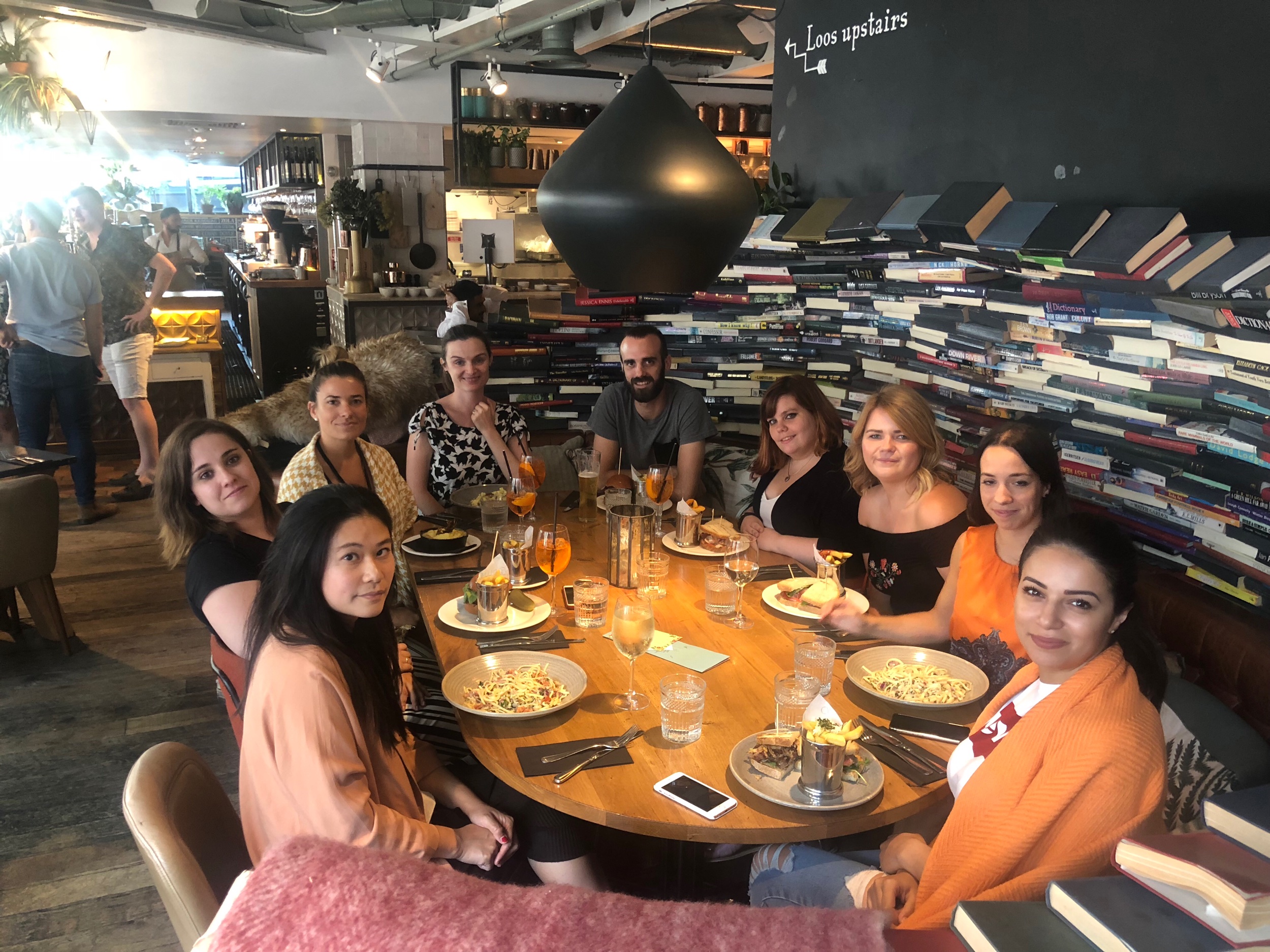 My old crew at the marketing job – then it became too social
My child was very hard to raise, I didn't feel connected to her anymore, I lost motivation and strength for those low moments that every business owner goes through. I was tired of trying to raise her with no fulfilment anymore.
So I took it easy and I focused on myself to gain motivation and other ideas from going back in the game and working with other people, or that's what I thought it'd happen… I even didn't advertise anywhere or did any collaborations, but work still kept coming in. Please help!
I ended up working as much as the previous year at Sophie and Luna, even more, while having a full time job in London. What the heck did I just do? How could I not see this coming? My days became extra long and now I felt that my child was an obligation. I had no time to enjoy making pieces because I was tired, I couldn't make pieces for fun anymore because I was too busy and had little time off. Sophie and Luna kept me awake at night fulfilling orders during the Summer, going to the post office before, after work or at lunch time, taking business calls during coffee breaks or staying at the office late replying emails and making order from suppliers. Damm, what was I doing wrong? Why did I even go back to a 9-5 job?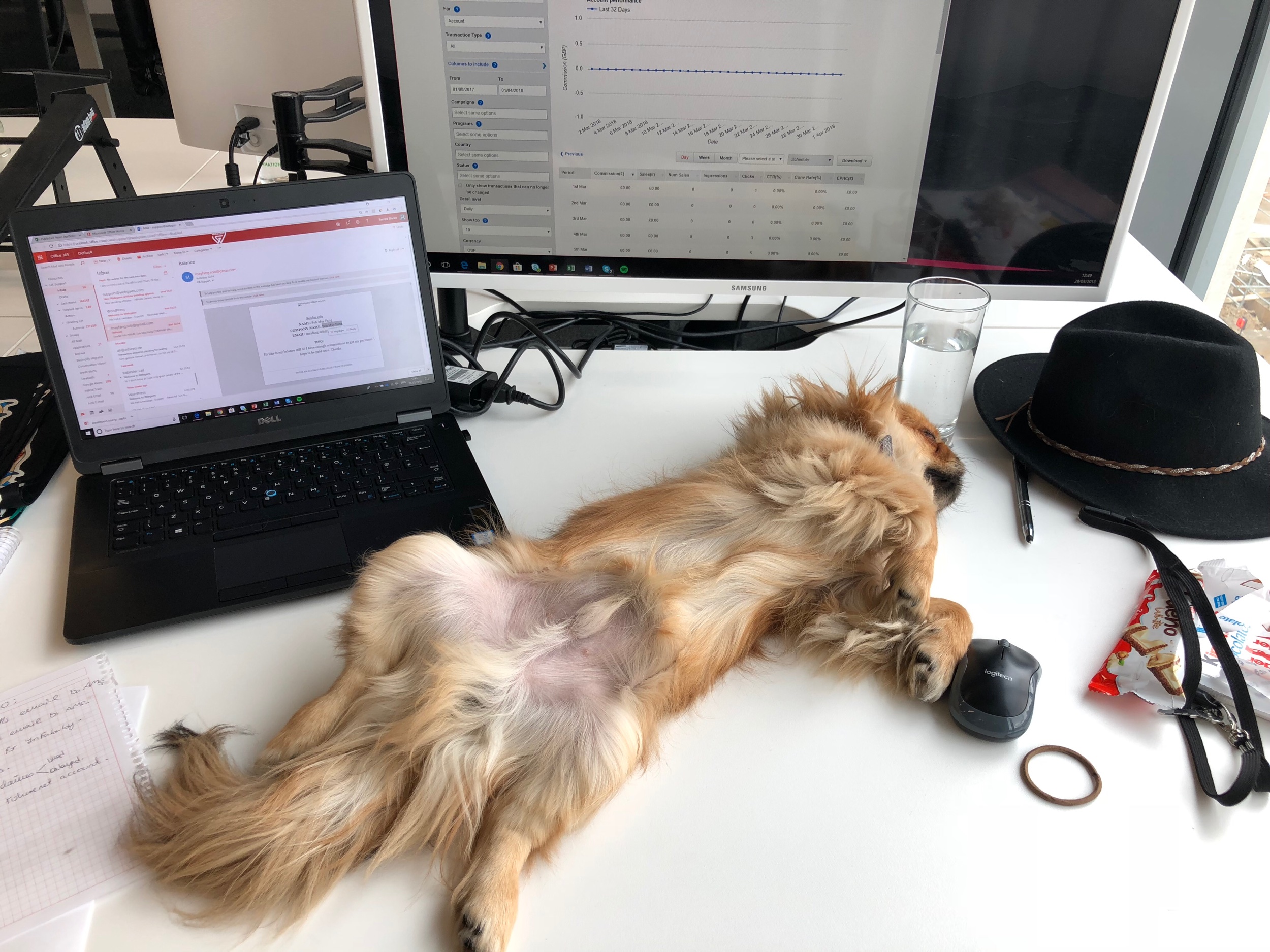 This is how Cooper and I felt everyday at the office that Summer – luckily I could bring him in everyday!
It took me a year to realise that my child needed me more than ever, that she couldn't keep going without me and that I had to learn what she needed. She needed me full on!
to be honest I don't feel bad about any mistakes I've made because by the time I thought I was doing the right thing for myself and for the business. No guilt. I fell and stood up. At the end of the day this is my first business so everyday is a learning day, and every experience is new one, learning from mistakes and overcoming them more easily every time. This doesn't mean that it doesn't hurt when I fall down…
A year later, in August 2018 I left that job and I went back to Sophie and Luna full time knowing more than ever that she was my life, that I would do anything to raise her in the best way as possible but something was still missing: I focused on making what people wanted and I stopped designing what I really loved. Sophie and Luna didn't feel like my child anymore, she didn't look like me. She was a child influenced too much by what others wanted. It was time to do something different!
As some of you know I'm from Spain, and that I went to Malaga to create the new collection in February and March this year thinking that this would be the solution: new pieces, fresh designs. I loved my flowers so I was sure whatever I made I would be happy with! I also wanted to get away from the cold Winter in London. Look at my outfit in March in Malaga downtown at 22C degrees! I'm suffering the winter and rain now, in the middle of June in London.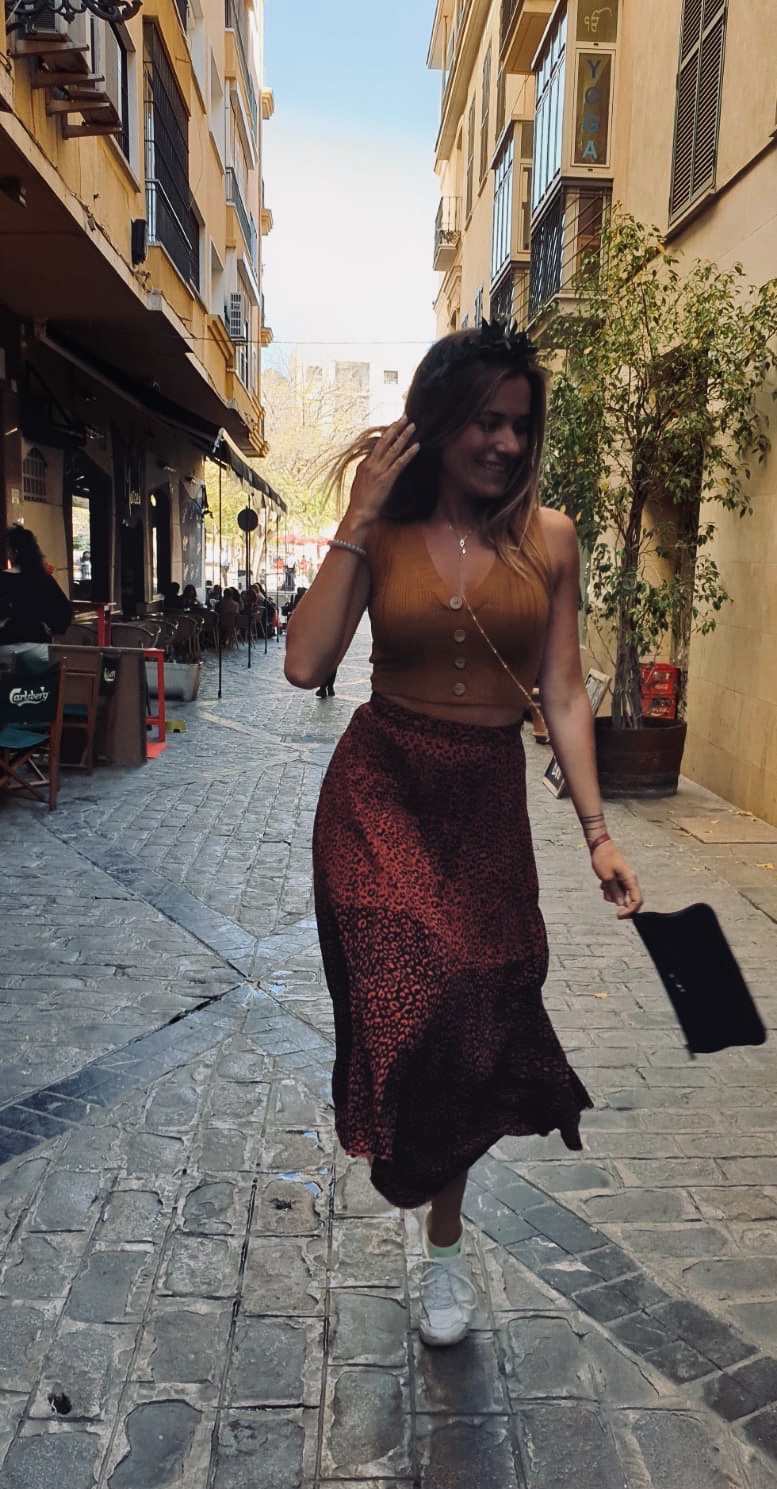 Shopping with my friend Jesper in downtown Malaga
It was amazing to be in sunny Malaga for 2 months, don't take me wrong, but I wasn't fully happy about the new collection either. I made Infinity crowns, Classic crowns and Petite and Premium hair combs. I didn't enjoy making them, they didn't say: "hey I'm Sandra, this is what I like and this is who I am!". I made looots of these "boring" pieces, and I still have them packed away. I made them because some people would buy them, they wanted these simple pieces, for their bridesmaids or just as a present for a friend. Yeah cool and very sellable but not my vibe anymore and I could feel that it was wrong. I evolved, I changed so did Sophie and Luna's needs.
Some work I did from my apartment in Malaga
I came back to cold London in April and I had an entire new collection of all type of pieces, the little pieces I didn't like making and my favourite babies: the Retro crowns. I was supposed to photograph these pieces and upload them on my website at my arrival but I didn't feel it. Pretty moody right? I know… the low of being a creative.
Sorry for those who wanted to check the new collection out and also sorry because I promised it'd be ready by April. It actually was ready for preorders but never went up online. I still have them and you can purchase them on my Etsy shop Little Luna London as some of them are one off pieces.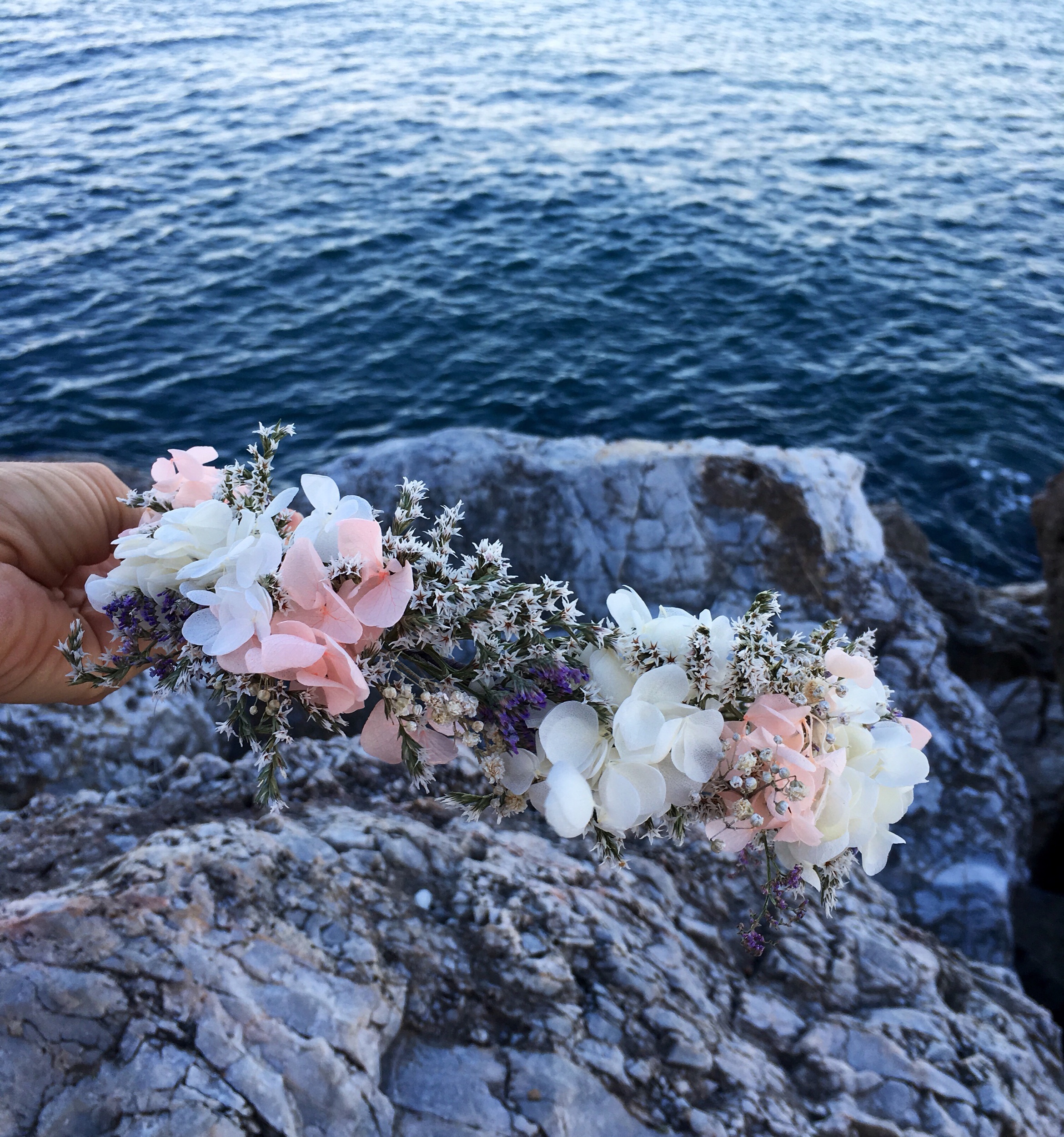 This one is available on Etsy or by messaging me directly
Why did I called this blog post the end of an era then? This is a goodbye post for the Classic crowns, the Infinity crowns and the hair combs. You won't see them on my new website anymore but you can order as bespoke pieces if needed.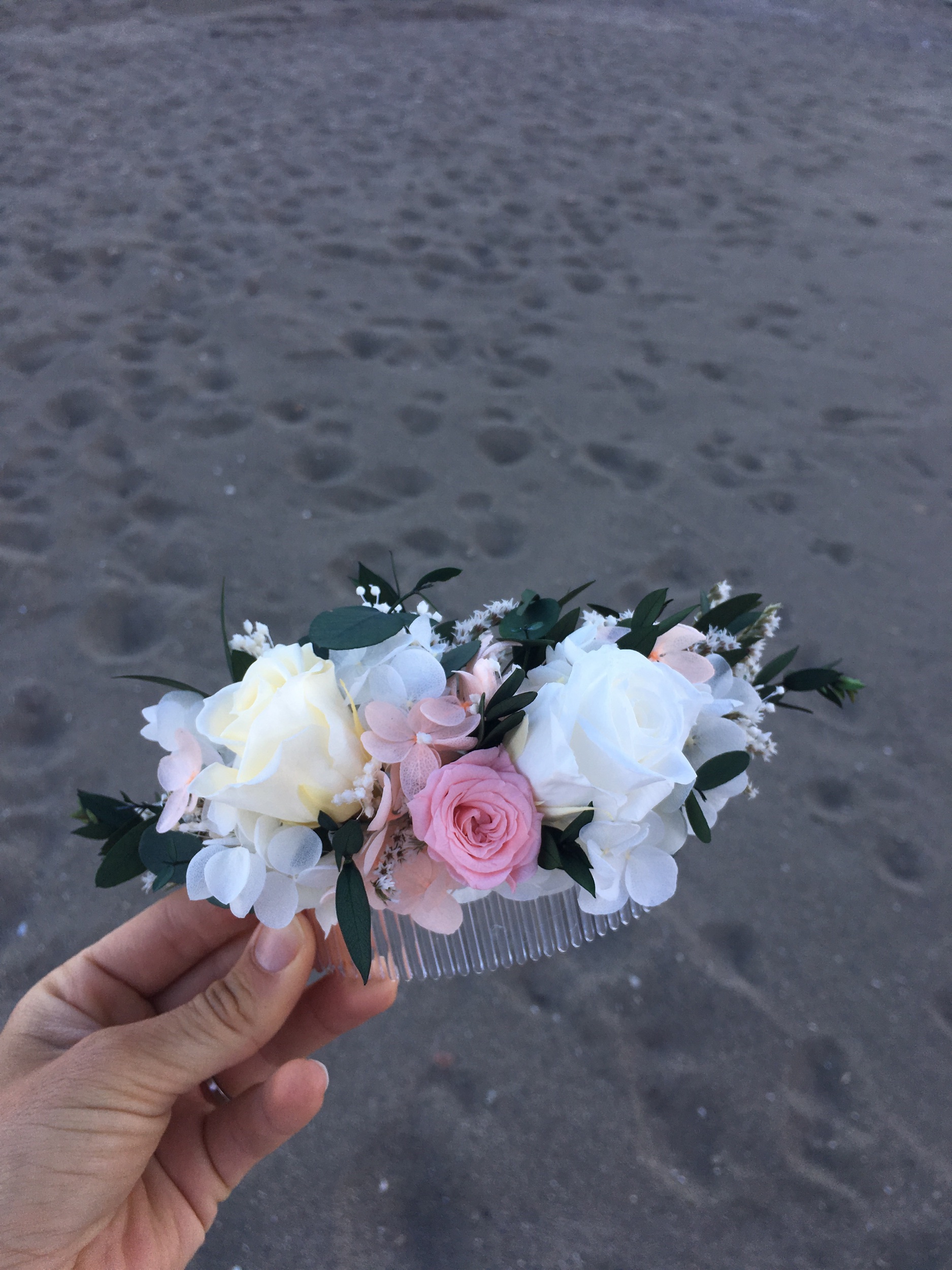 I still have some of them after selling them on preorder
I mentioned before that I am rebranding and changing my style is one of the reasons why I am doing so. I am launching a new website in September with cool pieces because these ones do say: Hey I'm Sandra! This is me! I can identify with these pieces and I hope you can see my creativity blooming too.
I really can't wait to show you. All the spikes with a touch of delicacy. There will be available lso for brides, in pastels, whites and golds. I'm dying, honestly, I can't wait!
This is what I love! And I'm making them in white too, yassss
If you want to get a hold of the other extinguished pieces, those neglected ones I've been talking about, let me know, I have lots and they are limited edition as you can imagine.
I feel much better now that I made this public and my decision is what makes me the happiest. In the end of the day this is what life is about right?
I thought about it for weeks, and it took two long months to take the courage and confidence to make this decision, that one I was always scared of: I would stop making what sold and only would make what I loved.
Sophie and Luna started from a passion to be different and from love to spread this creativity. I wanted to have that passion back so I truly believe I've made the right decision. I'm the happiest I've ever been with my child Sophie and Luna.
All this being said, I say bye bye to boring headpieces as part of the collection. It's not that I won't make them anymore because bridesmaids still need flower crowns or combs but they can only be ordered matching a bespoke piece or a piece from the collection. At least I can enjoy a side of each order.
Thanks so so much for reading, it means a lot that I can open up to you like never before – not mentioning my non-elopement in Vegas… oops! A story for another day.
What hat do you think? Would you follow your heart even if it means that you will make less money but you'll be happier?
Love,
Sandra
X